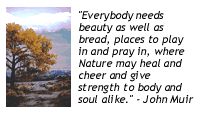 To Contact Us:
Phone: 1-877-570-9670
[email protected]
6917 N. Campbell Road
Las Vegas, NV 89149
Privacy Statement




What types of payment do you accept?
We accept Visa, MasterCard, American Express and Discover cards. We also accept check and money order payments. We may submit your check information online for processing, or you may mail us your payment.
Is ordering from Sierra Outdoor Guides safe?
All of your transactions at SierraGuides.com are safe and secure. We have chosen PayPal to encrypt and process all of your personal information including credit card number, name, and address, so that it cannot be read as the information travels over the Internet.
We back this up with our safety guarantee. We guarantee that you will pay nothing if unauthorized charges are made to your credit card as a result of shopping at SierraGuides.com. The following details outline our Credit Card Guarantee:
Under the Fair Credit Billing Act, your bank cannot hold you liable for more than $50.00 of fraudulent charges.
If your bank does hold you liable for any of this $50.00, we will cover the entire liability for you, up to the full $50.00.
SierraGuides.com will cover this liability only if the unauthorized use of your credit card resulted through no fault of your own from purchases made at our site while using the secure server.
In the event of unauthorized use of your credit card, you must notify your credit card provider in accordance with its reporting rules and procedures.
Order Tracking
Please email us at [email protected] and provide us with your order number. We will contact you immediately.

If you would like any further assistance, please call our friendly and helpful Customer Service Department at 877-570-9670.
What about returns?
If you are not satisfied with your purchase, you can return it within 30 days for an exchange or refund of the purchase price. Terms of Guarantee:
Email us at for return authorization.
Please refer to your invoice number in the email.
Returns must be within 30 days.
Products must be in "like-new" condition, and must have all original parts and packaging.
Shipping fees are not refundable
Will my personal information be sold?
We do not sell our mailing list to anyone. Your privacy is guaranteed. You will only receive notices containing special offers or alerts from SierraGuides.com or our parent company Assent Media.
If you prefer not to send your credit card number over the Internet: please call our friendly and helpful Customer Service Department at 877-570-9670.
Order YOUR guides NOW!